Latest News
At the 220 Triathlon Magazine Awards in Sandown Park, Iain was surprised and delighted to win the 'Jane Tomlinson Award for outstanding contribution to triathlon'.
Jane Tomlinson, of course, provided inspiration to many many people as she battled through breast cancer to raise millions for charity through endurance sport and triathlon. To win an award in her name was a real honour.
Giving out the award, the team at 220 Triathlon highlighted some of Iain's key contributions and achievements since first establishing One Step Beyond as part of a college project when he was 19 years old. » Read more…
Next weekend's Saucony Cambridge Half Marathon (8 March) features 4,500 runners including the returning champions, Vicky Knight (Cambridge & Coleridge AC) and Aaron Scott (Notts AC).
The field features a high standard of club runners alongside fun runners and Cancer Research UK charity fundraisers. Knight won last March in a time of 1hour 17:43, whist Scott made an early impression and maintained a lead throughout the race to win the men's title in 1hour 06:34. Scott hopes to make a similar impression this year, he said: » Read more…
Win an all-inclusive training camp in Mallorca. No matter what level ability you are, the camps cater for everybody from beginners to professional athletes. This is a hassle free training holiday; all you have to do is EAT, SLEEP, TRAIN, REPEAT (and relax of course!)
Tri Camp is renowned for outstanding hospitality, excellent coaching and superb food. Camps are run by a small team who care about the details, ensuring that you get exactly what you want from the camp whether it's a hardcore training week, sorting out your swim technique or relaxing in town square with a coffee! » Read more…
Sign Up To Our Newsletter
Just pop your email address into the box below so we can keep you up to date with our events & promotions.

Award Winning Events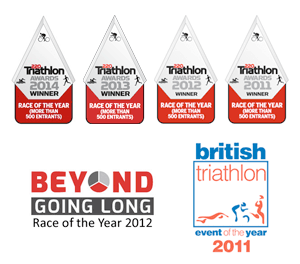 Partners & Sponsors



Media & Info





Next Event