Latest News
Win an all-inclusive training camp in Mallorca. No matter what level ability you are, the camps cater for everybody from beginners to professional athletes. This is a hassle free training holiday; all you have to do is EAT, SLEEP, TRAIN, REPEAT (and relax of course!)
Tri Camp is renowned for outstanding hospitality, excellent coaching and superb food. Camps are run by a small team who care about the details, ensuring that you get exactly what you want from the camp whether it's a hardcore training week, sorting out your swim technique or relaxing in town square with a coffee! » Read more…
Clumber Park Duathlon on Saturday 21 March has now reached over 900 entries. The standard distance event, which is also doubling up as the British Championships has fewer than 100 entries available.
We recommend those wanting to be sure of a place in either the sprint 5k run, 20k bike, 2.5k run or the standard distance / British Championships 10k, 40k, 5k get their entries in quickly to avoid disappointment.
For further information on the event click here or to start the current entry list, click here.
Congratulations to all of those that completed the 'toughest' Mud N Madness yet. Despite 14 very new & challenging obsticals, all designed to either stop, slow down & get everyone very muddy – over 500 completed the 8.5k course.
A provisional set of results are both the adult and junior events are on the main event page – see the yellow highlighted boxes on the right of the page.
Sign Up To Our Newsletter
Just pop your email address into the box below so we can keep you up to date with our events & promotions.

Award Winning Events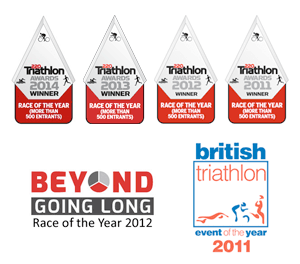 Partners & Sponsors



Media & Info





Next Event