Events
Rother Valley Triathlon Festival
Big Swim Sheffield
Blue Seventy Big Swim Sheffield
Date:
Venue:
Max entries:
Distance:
Entry Fee:
Start Time:
Winning Times 2012:
08 June 2013
Rother Valley Country Park, Sheffield
1000
1 mile
£20.00
12:50 · 13:00
Male: 00:18:18 · Female: 00:18:38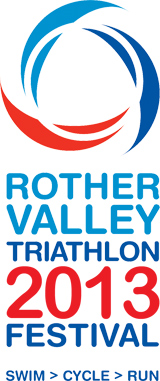 After the success of the event in 2012 we have decided to run the 2nd Big Swim Sheffield as part of the Rother Valley Triathlon Festival.
So whether you're a novice, experienced open water swimmer or Olympic athlete, this event is a fun challenge that will also help raise money for the Cancer Research UK.
The swim is easy to navigate with sight of the banks at all times. There are HUGE luminous swim buoys for you to aim for and all swimmers will be helped out of the water and handed their finishers medals on completion. You can use any strokes you wish to complete your chosen distance.
The Blue Seventy Big Swim Sheffield is open to swimmers of all ages from 12 years upwards. We can't promise the water will be warm, but you do have the option to wear a wetsuit if you wish - and there are plenty of lovely hot showers for afterwards! We'd recommend all beginners, and those who feel the cold, to wear a wetsuit - it will help keep you warm as well as more buoyant in the water. Experienced swimmers can wear any swimwear - even illegal swimskins!

My Basket
This Event
Partners & Sponsors


Media & Info





Next Event