Events
Mud N Madness
Event Charities
Mud N Madness Event Charities
Saint Francis Hospice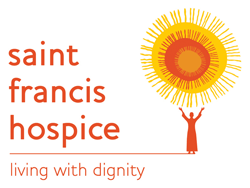 Saint Francis Hospice provides care and support to people affected by a life limiting illness. As you take on this mighty 'Mud N Madness' challenge, we ask you to think of our patients and their families who have their own challenges to face.
You may know someone who has received hospice care and understand the important service we provide. The hospice cares for the whole person rather than simply treating the symptoms and so we look after their clinical, social and spiritual needs.
Our services are provided completely free of charge, covering an area of 1 million people, those living Havering, Brentwood, Barking, Dagenham and Redbridge. We care for adults over the age of 18 and support not only patients but also their families including young children - helping them to comes to terms with what is happening.
The majority of patients receive care at home with our nurses making over 5,000 home visits each year. Saint Francis Hospice is an important local charity that provides vital support to the local community.
By choosing Saint Francis Hospice as your charity to support, you are enabling us to continue to provide care to people who need our help. We look forward to hearing from you and sending out a sponsor pack.
To find out more about what Saint Francis Hospice do visit: www.sfh.org.uk/
For a pack please contact: 01708 771405 - email: [email protected]
Reg Charity No. 275913
Cancer Research UK

Become a One Step Beyond triathlete and support Cancer Research UK's life-saving work.
By joining our team at one of One Step Beyond's events in 2014 you can help Cancer Research UK fund ground-breaking work into beating cancer, a disease that will affect one in three of us. Contact us on 0871 641 2403 or email [email protected] to join us.
How we can help
We'll support you every step of the way to make sure you have a truly memorable experience.


Before the triathlon you'll get a t-shirt or vest to wear on the day - add our iron on letters to the front of your top so we can cheer you on all the way round.


You can also request a fundraising pack stuffed full of ideas to help boost your fundraising target.


We can also help you get ready for the triathlon with our training advice and help your family and friends support you on the day by requesting a cheering pack, full of goodies to help make a real racket.
How you will help us
By supporting Cancer Research UK you will be helping us find new ways to prevent, diagnose and treat cancer. Cancer Research UK is at the heart of cancer research, funding the work of more than 4,500 researchers, doctors and nurses throughout the UK.
Prevention - we are at the forefront of raising national awareness on the issue of cancer. Campaigns such as the Smokefree Workplaces campaign has helped to save an estimated 600 lives a year. By promoting a healthy and active lifestyle, we can help significantly reduce cancer rates in the UK.


Diagnosis - your money helps us to fund our three national screening programmes for bowel, breast and cervical cancers. Screening for cancer aims to find cancers as early as possible - when the chance of cure is highest. Sometimes screening programmes can find changes that would lead to cancer if they were not treated.


Treatment - Cancer Research UK is at the heart of pioneering new clinical trials, aiming to find safe treatments with fewer side effects, to help patients feel better quicker. Our website CancerHelp UK also allows us to provide helpful information to cancer patients and their families, allowing them access to all the information and support they need.
We can't wait to welcome you on to the team. Together we will beat cancer.