Events
The Outlaw Events
Outlaw Charity
Outlaw Charity - Cancer Research UK

Become an Outlaw Triathlon for Cancer Research UK and bring forward the day that all cancers are cured.
By joining our team at the legendary Outlaw Triathlon you can help Cancer Research UK fund ground-breaking work into beating cancer, a disease that will affect one in three of us. Contact us on 0300 123 5461 or email [email protected] to join us.
How we can help
We'll support you every step of the way to make sure you have a truly memorable experience.


We'll send you a t-shirt/vest to wear on the day - add our iron on letters to the front to make sure that we cab cheer you all the way around.


We have bespoke CRUK cycling jerseys available to anyone that raises over £250 - just send us a link to your online fundraising page and we'll send this out.


We have fundraising packs stuffed full of ideas to help you hit your fundraising target.


We have training information to help you get in tip top shape for event day.


Request a cheering pack for your friends and family to help them make a real racket on the day.
How you will help us
By supporting Cancer Research UK you will be helping us fine new ways to prevent, diagnose and treat cancer. Cancer Research UK is at the heart of cancer research, funding the work of more than 4,500 researchers, doctors and nurses throughout the UK.
Prevention - we are at the forefront of raising national awareness on the issue of cancer. Campaigns such as the Smokefree Workplaces campaign have helped to save an estimated 600 lives per year. By promoting a healthy and active lifestyle, we can help significantly reduce cancer rates in the UK.


Diagnosis - your money helps us to fund our three national screening programmes or bowel, breast and cervical cancers. Screening for cancer aims to find cancers as early as possible - when the chance of cure is highest. Sometimes screening programmes can find changes that would lead to cancer if they were not treated.


Treatment - Cancer Research UK is at the heart of pioneering new trials, aiming to find safe treatments with fewer side effects, to help patients fell better quicker. Our website CancerHelp UK also allows us to provide helpful information to cancer patients and their families, allowing them access to all the information and support they need.
We would be delighted to have you on our team. Become and Outlaw today, and together We Will beat cancer sooner.
These Events
Outlaw - Windbreaker Jacket
OUTLAW TRI: Fantastic orange Outlaw Windbreaker lightweight jacket. Contrast zip... more
Price £32.00

Next Event
Nottingham Triathlon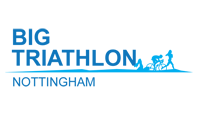 An arena type venue with overlooking grandstand, blaring PA and an atmosphere that sucks you into racing as the crowd gets to see your every move...
Partners & Sponsors