Events
Official Charity for 2016
Cancer Research UK

One Step Beyond's Official Charity for 2016

Become a One Step Beyond competitor and support Cancer Research UK's life-saving work.
By joining our team at one of One Step Beyond's events in 2016 you can help Cancer Research UK fund ground-breaking work into beating cancer, a disease that will affect one in three of us. Contact us on 0300 123 5461 or email [email protected] to join us.
How we can help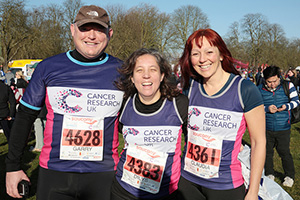 We will support you from the minute you sign up to get you ready for race day thanks to our dedicated Sports Team
You can also request a fundraising pack packed full of ideas to help boost your fundraising target
The pack will also include your free CRUK vest or t-shirt with iron on letters so spectators can give you that extra boost during the race
Download our free training plans to help your prepare properly for whatever race you take on
We have partnered with a professional trainer that can answer all your questions leading up to race day such as injury prevention, nutrition, what to wear or how to train properly for example
How you will help us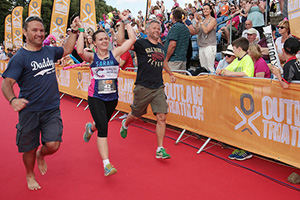 By supporting Cancer Research UK you will be helping us find new ways to prevent, diagnose and treat cancer. Cancer Research UK is the only charity fighting all 200+ types of cancer on every front and we take our learnings from the lab directly to the patient's bedside. Our vision is to bring forward the day when all cancers are cured and to do that we have to accelerate our progress in the prevention, diagnosis and treatment of cancer.
Prevention - we are at the forefront of raising national awareness on the issue of cancer. Over the last 3 years we have campaigned for plain cigarette packaging which was successfully passed in UK Parliament in March 2015. This video sums up why this is so important - 40% of cancers could be prevented through lifestyle changes so by promoting a healthy and active lifestyle, we can help significantly reduce cancer rates in the UK.


Diagnosis - your money helped us to fund the Million Women Study that confirmed that the current and recent use of HRT increases a woman's chance of developing breast cancer and that the risk goes up with longer duration of use. Studies and screenings are an essential part of our work to ensure we are able to find such connections and eliminate the risks that could lead to cancer.


Treatment - Cancer Research UK is at the heart of pioneering new clinical trials, aiming to find safe treatments with fewer side effects, to help patients feel better quicker. Our website CancerHelp UK also allows us to provide helpful information to cancer patients and their families, allowing them access to all the information and support they need.
We can't wait to welcome you on to the team. Together we will beat cancer.