Events
David Lloyd Lincoln Triathlon
David Lloyd Lincoln Triathlon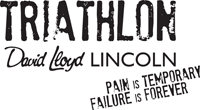 Date:
Venue:
Max Entries:
Distance:
Entry Fee:

Winning Times 2013:
27 April 2014
David Lloyd, Burton Waters, Lincoln
600
400m pool swim - 22K bike - 5K run
Individual:
£37.00
(plus Admin & BTF fees)
Team:
£47.00
(plus Admin & BTF fees)
Male: 01:00:43 · Female: 01:08:58
The first race of the Midlands Sprint Triathlon Series is again based at the award winning David Lloyd Leisure & Health club, Burton Waters, Lincoln.
As far as luxury events go, this one hits the spot. How many triathlons are hosted by a private health club, using the magnificent indoor pool, cycling along perfectly smooth re-surfaced wide open roads and finishing with a closed road lap run.
We think that this event has an American feel to it, swimming in a luxury pool, jumping out, passing a jacuzzi on the way into transition...
The first village that you will pass through is the splendid Burton - which is beautiful - if you get chance to look, which we doubt that you will.
And who said Lincoln was flat? After the first few miles of the cycle course, we doubt that anyone will be saying it's flat. We have managed to find one of the steepest hills in Lincoln - but don't worry, plenty of people have walked up Burton Hill over the past few years.
From there on it's all quite simple, we would recommend you check out the view to the left once you have reached the top - you will know what we mean when you see it. The run route takes you out onto the tow path that runs along the edge of the Fossdyke Navigation, where you'll have the opportunity to see the competition and the spectators to cheer you on as you complete two out and backs to finish back in the grounds of David Lloyd Burton Waters.
Gallery
Coming soon