Events
Emergency Services National Triathlon Champs
Emergency Services National Triathlon Championships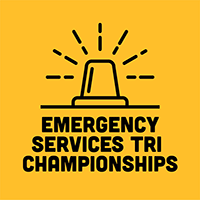 Date:
Venue:

Max entries:
Distance:
Price:

Start time:
Winning Times 2015:
28 May 2016
National Water Sports Centre, Nottingham, NG12 2LU
250
750m swim - 20km bike - 5km run
Individual: £45.00
(non-BTF +£5)
Team: £60
(non-BTF +£5 each)
14.30
Male: 00:58:13 · Female: 01:04:18
Relay: 01:01:37
The Emergency Services Triathlon is back for 2016
The Emergency Services Triathlon will yet again be held at the National Water Sports Centre, Nottingham.
Competitors will race to ensure that their service becomes the overall winning service and fight for individual age group prizes. Competition aside, it's really all about having fun in a traffic-free friendly triathlon environment.
All competitors that have a confirmed entry will need to register on the morning of the race which will take place between 09:30 and 10:30 in the race registration marquee, this is where you will collect your timing chip and race numbers.
The race will start in front of the boathouses at 2.30pm and will finish in front of the main grandstand. It starts with a 750m open water swim, followed by a traffic-free 20km cycle ride around the lake and a 5km run to finish.
The course may be flat, but some keen headwinds and tight corners can make the bike course more challenging than it looks. It's also a tactical race where you can see your opponents at all times - but novices should not worry, this is one of the friendliest events we put on and it's perfect if you don't have much triathlon experience. Come along and enjoy the friendly and supportive atmosphere of taking part with your friends and colleagues.
Who can enter?
The event is open to everyone associated with the emergency services and the event is suitable for all, from seasoned triathletes to novices and first time entrants. It is open to all Emergency Service personnel of all abilities including Police, Fire, Ambulance, Mountain Rescue, Coastguard / Lifeboat Services, Army, RAF, Navy, Air Ambulance, etc. whether you work on the front line, offices, workshops or retired.
Don't want to do it on your own?
Why not consider entering as a Relay Team of 3 people (1 Swims, 1 Cycles, 1 Runs) and get your colleagues involved in the fun too.
This year's charities will include:
The Fire Fighters Charity, RAF Benevolent Fund, Royal National Lifeboat Institution (RNLI), Army Benevolent Fund, Police Benevolent Fund, Navy Benevolent Fund and Lincolnshire & Nottinghamshire Air Ambulance.

This Event
This Year's Charities







Media & Info





Next Event