Event In a Box
With over fifteen years of experience, and over 100 multisport events organised, the One Step Beyond (OSB) team have launched 'Event In A Box'. It is a consultancy based event management package designed to help in the development of multisport events throughout the UK.
Iain Hamilton, Event Director of OSB, has experience of operating as Race Director for events including The National Relays, The Vitruvian, The Nottingham Triathlon and The Southwell Sprint Triathlon to name but a few, including over fifteen British Triathlon National Championships.
With a firmly established background and understanding of the logistics and promotional activities required to ensure the success of both local and national based events, the OSB team are now in a position to share their wealth of knowledge with other potential event organisers.
OSB are specialists in providing event management services to clubs, local authorities and commercial enterprises who wish to stage an event, the OSB team can provide specific guidance from a team of dedicated experts with years of event management experience.
'Event In A Box' offers the flexibility for you to choose what services you wish to hire in. OSB can manage all aspects of your event from course design, traffic management, marketing, risk assessment, data capture, event budget, event build up and take down, on the day management, volunteer management and equipment supplier.
We understand that your event budget is a major consideration. 'Event In A Box' can provide you with up front costs based on your specific requirements. This can be provided as a daily rate or as a whole event package. Our costs are very competitive due to our low overheads and understanding of your requirements. You may find that using OSB for your entire event including the supply and purchasing of event equipment and event t-shirts, will save you money.
Our aim is to help make your event a success!!!
If you would like to get specific information regarding your own event, please contact us using our contact page. Include brief details such as your proposed dates, venue, potential number of competitors and what help you require.
Next Event
Nottingham Triathlon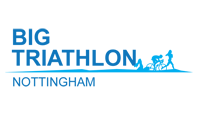 An arena type venue with overlooking grandstand, blaring PA and an atmosphere that sucks you into racing as the crowd gets to see your every move...
Partners & Sponsors


Media & Info