Events
Evil Sheriff Off Road Duathlon
Evil Sheriff Off Road Duathlon
Date:
Venue:
Max entries:
Start Time:

Distance:
Entry Fees:

Winning Times 2013:
08 November 2014
Sherwood Pines, Nottinghamshire
700
Wave 1: 08:00 male under 50
Wave 2: 10:30 female & male 50+
5km run · 20km bike · 3.4km run
Individual - £30.00
(non-BTF +£5)
Team - £40.00
(non-BTF +£5 per person)
Male 01:16:33 · Female 01:22:11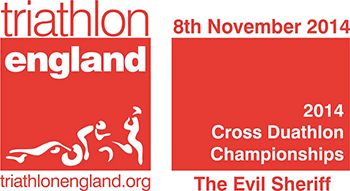 One Step Beyond will once again be organising an adventure challenge set within the 1,200 hectares of woodland and open heath of Sherwood Pines Forest Park. On the 8th November 2014 the Robin Hood Adventure Challenge will be back! The events will be identical to previous years with 4 events available: the Evil Sheriff Duathlon and 3 trail runs.
This will be a challenging off road duathlon course, consisting of a 5km run - 16km bike - 3.4km run. This event has some technical uphill sections and will undoubtedly live up to it's name of being an 'Evil Off Road Duathlon'! However don't let this put you off the course is great fun and we expect to see competitors of all abilities competing. After some feedback from last years event expect to find a few tweaks to the bike course to keep you on your toes!
The key difference in 2014 will be that the Evil Sheriff event will not only be part of our Midlands Off Road Series - race number 2, remember you must complete all three events to complete the series, it will also be doubling up as the Cross Duathlon National Championships.
Come on -- don't miss out -- register to become an Adventure Challenger today!