Events
Club Relay Championships
Club Relay Championships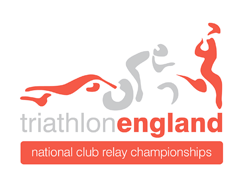 Date:
Venue:

Max Entries:
Distance:
Entry Fee:
Wave Times:
23/24 August 2014
National Water Sports Centre, Adbolton Lane, Nottingham
660 Teams
Relay x 4: 500m swim - 15k bike - 5k run
£164.00 per team
Saturday morning: Mixed & Open 08:45
Saturday afternoon: Female & Open 13:45 (TBC)
Sunday morning: Male & Open 10:15
Triathlon England - Club Relay Championships
Started in 1991, this event is just legendary; there is truly nothing else like it. In 1991 with just 120 competitors, 2012 saw over 2000 lucky athletes join in the organised chaos of the Club Relays.
The event is now not so much about the swim, bike, run elements, but obviously these are very important. We like to think this whole weekend of fun is triathlon's answer to the Glastonbury Music Festival. Yes, there's the headline stage - over the years we have had Olympians and World Champions taking part but this weekend is also about the apres triathlon. Where else can you find close to 1000 triathletes all camping and partying together?
No club should miss this event. One of the most exhilarating and fun events on the UK calendar, the Club Relays revolves around teams of four using a tagging format where everyone swims, everyone bikes and everyone runs in a race that looks like a mixture between competition and chaos.
Now in its 23rd year the Club Relays really is the focal point as well as the vocal point of the season for many teams who look to a real club event to bring them together and where camaraderie and teamwork really pay off.
With a 500m swim, a 15km bike and a 5km run any four triathletes can get together and make up a team and race in one of the range of team categories available. But don't think it's just one big laugh. With Triathlon England - Club Relay Championships at stake there will be some serious racing out there on a completely closed course over which your team mates can see you (and shout at you) for the duration of all three disciplines.
Ever fancied racing a triathlon in an arena, well this is as close as it gets.